e-Courses
Mindfulness: Tranquility Within
Join Kimberly for an enlightening exploration of mindful living for the girl on-the-go. This e-course shares practices and theories to help connect readers to the source of tranquility within. The lessons will show you how to develop a deeper connection to yourself, others, and the world at large. Offer yourself the space to infuse mindfulness into your daily life while developing a better understanding of yourself and developing skills that will last a lifetime. Studies show that mindfulness practice boast many benefits ranging from stress reduction, to better focus, to less emotional reactivity, to enhanced well-being.
Tranquilologie: A DIY Sprinkling of Everyday Tranquility
At your own pace
Tranquilologie is the study of living a tranquil life with a splash of joie de vivre. It is a state of being mindful in the moment, relishing the simple pleasures of everyday life such as fresh flowers and candlelit dining, and continually creating an extraordinary experience out of the ordinary. This involves starting your day with intention, dressing with a dash of flair, filling your body with greens (and an occasional cupcake), and doing work you love. And above all, not waiting to live the life you desire until . . . the kids are grown, you retire, or you find your knight in shining armor. Tranquilologie is all about living with exuberance, passion, and tranquility – every month of the year.
The Tranquility Project: Yummy Tips for Tranquil Living
February 27-March 15
Join Kimberly for a 4-week e-course outlining ways to live life fully, with tranquility, and a dash of flair. the four sessions focus on her favorite tranquility tools and are broken out into mind, body, soul, and a combo module.
After reading the book The Happiness Project, Kimberly wanted to play with a similar exploration of tranquility based on the various modes she's explored intently and created a life around over the past decade. Despite the hectic pace at which most of us live, there is a desire for balance and peace at the core. This e-course will show you how to have that while creating the life of your dreams in the process. Spend a month basking in *new* ways to infuse tranquility into your everyday, reconnect with forgotten tools, and emerge inspired during the magical season of blooming.
Tranquilista Lifestyle: Joie de Vivre
TBA
Join Kimberly for a 6-week e-course focusing on the main modules outlined in her latest book, Tranquilista: Mastering the Art of Enlightened Work and Mindful Play. Each session will highlight ways to shape your world with spirituality, aspirations, do-gooding, creativity, style, and entrepreneurship. During the course, you will have access to a private blog complete with musings and weekly podcasts by Kimberly, along with lifestyle-focused videos to help bring the topics to visual form.
This course will encourage ongoing reflection so you will have weekly OMwork to post on the blog (don't worry, it's fun!), along with artistic play assignments (also oodles of fun) to explore within your visual journal. In addition, you are encouraged to commit to a daily spiritual practice such as yoga, running, meditation, prayer, or nature walks – whatever resonates most with you.
Creative + Conscious Business e-Course
At your own pace
Ooh la la, a joyful and authentic in-depth look at starting, running, and growing a creative business consciously. As an entrepreneur since 1999, I've learned many lessons along the way (lots of hard ones) and am excited to share every single one of them in true tranquilista style. From hanging fliers in my neighborhood to launch Tranquil Space (now serving 1500 yogis/week in two locations), to starting TranquiliT with t-shirts and yoga pants (now a tiny beloved brand with loyal fans), to getting published (two books), to going global via blog, podcast, and video, to co-launching a non-profit (BIG focus on leaving a legacy), this e-course will cover the gamut of my tranquilosophy.
Creative + Conscious Business is for the cubicle-bound artist, stay-at-home mum wanting to moonlight, newly launched business owner, or seasoned entrepreneur seeking inspiration and allows you to go at your own pace without expiration dates or due dates. Learn ways to use social media, set up your studio, manage your time and energy, diversify yourself, stay inspired, communicate consciously, spread the word, be your brand, leave a sparkling legacy and more!
Tranquil Space Lifestyle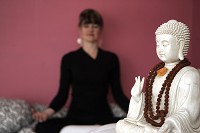 At your own pace
Join Kimberly along with three of her fellow Tranquil Space teachers for a 4-week e-course outlining ways to live the yoga lifestyle with tranquility. This e-course will allow you the opportunity to explore the yoga lifestyle in depth from four of Tranquil Space's talented teachers. The four sessions focus on healthy and mindful eating, creative expression, pranayama, anxiety reduction, asana, and living your yoga philosophy.
Read the private blog and go through the videos and podcasts at your own pace – there is no start or end date. Take time for the OMwork and pick up the recommended sources to dive deeper into the topics. Post pictures from your journey on our Flickr page. You are encouraged to commit to a daily spiritual practice such as yoga, running, meditation, prayer, or nature walks – whatever resonates most with you while taking the e-course.
Tranquil Space Lifestyle e-Course is recommended for beginner and experienced yogis looking for ways to infuse yoga into their everyday or non-yogis interested in living a more mindful lifestyle. Join us on this adventure and let the tranquility unfold.